State of the World with Ian Bremmer
WATCH
GZERO Daily: the newsletter for people who love global politics
Sign up for our free newsletter to keep up with what's going on around the world - and why it matters.
Subscribe
GZERO Daily: the newsletter for people who love global politics
Subscribe Now

We have updated our Privacy Policy and Terms of Use for Eurasia Group and its affiliates, including GZERO Media, to clarify the types of data we collect, how we collect it, how we use data and with whom we share data. By using our website you consent to our Terms and Conditions and Privacy Policy, including the transfer of your personal data to the United States from your country of residence, and our use of cookies described in our Cookie Policy.
2021 in review: The year in world news

If you thought 2020, the annus horribilis par excellence that TIME Magazine crowned "The Worst Year Ever", was rock bottom, 2021 was set to prove you wrong. Here's my pick of the events that rocked the world beyond measure this year (in no particular order). Democracy was under siege

After a very bad, no good 2020, global democracy continued to erode in 2021, deepening a decades-long democratic recession. This decline was felt by entrenched autocracies, fledgling democracies, and long-standing democracies alike.
Most notably, the president of the United States incited a violent mob to storm the US Capitol and overturn the result of an election he lost fair and square. Although his effort ultimately failed, Trump and his allies in the Republican Party continue to undermine the very legitimacy of elections, and two-thirds of Republicans believe the 2020 election was stolen. In Brazil, President Jair Bolsonaro spent months subverting trust in the electoral system, attacking independent institutions like the Supreme Court, and laying the groundwork for a January 6-style insurrection should he lose the 2022 presidential contest—something that seems increasingly likely. While his ability to rig the election is limited, the president's actions have already eroded Brazilian's support for democracy, deepened partisan divisions, and weakened the social fabric, making the prospect of political violence in the world's fourth-largest democracy more likely.
---
Want to understand the world a little better? Subscribe to GZERO World with Ian Bremmer for free and get new posts delivered to your inbox every week.
Like this newsletter? Share it with others you think would enjoy it, too.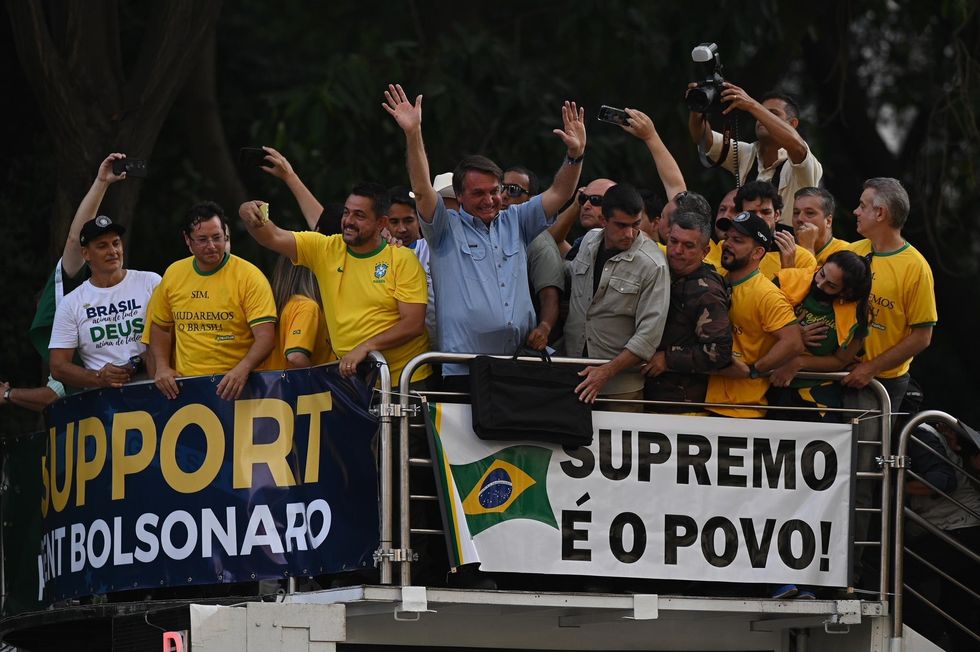 Jair Bolsonaro waves to supporters at September 7 rally. Andre Borges/picture alliance via Getty Images
Elsewhere, India's Prime Minister Narendra Modi cracked down on his critics' ability to express dissent on social media and presided over increasingly discriminatory policies and rhetoric against the country's Muslim minority. Poland and Hungary's illiberal governments continued their descent into authoritarianism. China intensified its clampdown on pro-democracy movements in Hong Kong as well as its repression of Uyghurs in Xinjiang. Russia, Belarus, and Cuba went to extreme lengths to silence dissent. And successful coups dislodged nascent democracies in Myanmar, Afghanistan, Sudan, Mali, Chad, and Guinea.
On the bright side, Germany, Japan, and Canada—the three largest democracies with elections in 2021— had successful, fully legitimate elections and, in the case of the former two, peaceful transitions of power.
America came back…ish
After four years of Trump's 'America First' policies, the election of Joe Biden promised to bring America "back" to its historic role as leader of the free world.
Biden had some early successes: returning the US to the Paris climate accord and the World Health Organization, renewing New START, committing to strengthening the transatlantic relationship while deepening ties with the Quad alliance (made up of Australia, India, Japan, and the US) to push back against China's expanding influence across the Indo-Pacific, ending drone strikes in Yemen, resuming nuclear negotiations with Iran, endorsing a global minimum corporate tax, and donating more Covid-19 vaccines than any other country.
In many areas, however, Biden was unwilling or unable to break with Trump's policies, largely due to constraints (some domestic, some global) inherent to the G-Zero order that prevented him from doing more. Such was the case of trade and China policy, for which major reversals were non-starters at home. On climate, Biden lacked the Congressional majorities and popular support needed to credibly commit the US to global leadership. Washington couldn't revive the Iran nuclear deal because Trump had killed it, Tehran wouldn't accept the old terms, and the international coalition that made it work in the first place had frittered away. And on immigration, Biden's agenda was met by stiff resistance from the public and the courts.
And then there was the Afghanistan withdrawal. Like his predecessor before him, Biden had vowed to end America's longest war before the 20th anniversary of 9/11. It did not go well. While the pullout may have been the right call strategically, it was widely panned as a disaster born of poor planning, deficient intelligence, botched execution, and a failure to coordinate with allies. Within weeks of US forces departing, the Taliban had taken over the entire country. The debacle left a gruesome regime in control of a deeply unstable nation, tarnished America's image, alienated allies, and cost the president at home.
Big Tech stepped in where governments failed
Nation states have been the primary drivers of global affairs for nearly 400 years, in charge of conducting war and peace, providing public goods, writing and enforcing laws, and controlling flows of information, goods, services, and people. In 2021, it became clear that that's beginning to change.A handful of tech giants like Meta (Facebook), Google, Amazon, and Alibaba have managed to amass enough power to wrest control over societies, economies, and even national security away from states in the increasingly important digital space. These companies are increasingly acting as sovereigns, with growing influence over our digital, and real-world, lives.
Remember SolarWinds? When Russian hackers breached US government agencies and private companies last year, it was Microsoft, not the National Security Agency or US Cyber Command, that first discovered and cut off the intruders.
And after rioters stormed the US Capitol on January 6, it was social media companies—not law enforcement, Congress, or the judiciary—that sprang into action to punish those responsible. Facebook and Twitter swiftly de-platformed President Trump. So did Paypal, Stripe, and Shopify. Amazon, Apple, and Google banished Parler, the social network rioters used to organize the Capitol mutiny.
Tech companies were able to exert this power because they own and control a growing share of the infrastructure that societies, economies, and governments worldwide increasingly run on. Just four companies—Alibaba, Amazon, Google, and Microsoft—meet the bulk of the world's demand for cloud services, the essential computing infrastructure that has kept people working, kids learning, and the global economy growing during the Covid-19 pandemic. Without their services, the Covid recession would have been much deeper and longer.
Their influence has not always been positive. Big Tech's sovereignty over cyberspace, combined with firms' generally hands-off approach to content moderation, means they are responsible for failing to adequately police misinformation about vaccines and Covid more generally. While companies have taken some measures to combat the so-called " infodemic," studies have found that online misinformation has increased vaccine hesitancy and caused excess Covid deaths.
Momentum for climate action passed the point of global resistance
It was a busy year for climate, with lots of good and not-so-good developments.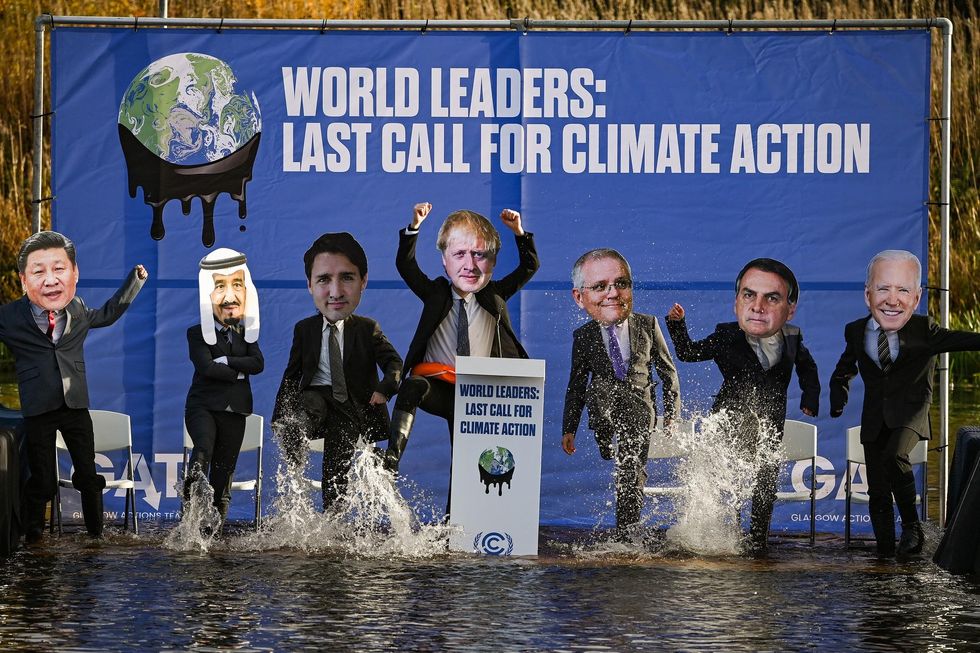 The Glasgow Actions Team activists dress as world leaders. Jeff Mitchell/Getty Images
On the one hand, the worst-case scenarios for global warming were taken off the table. Renewables got cheaper. The private sector took the reins. Major emitters raised their emissions reduction ambitions. And strong promises were made to end methane emissions, deforestation, coal production and consumption, and fossil fuel subsidies.
On the other hand, the world is still on pace to miss the 1.5°C goal countries committed to in Paris. Short-term energy needs and domestic politics undermined countries' attempts to credibly commit to ambitious climate action. And rich countries' refusal to meaningfully help developing nations decarbonize and adapt to climate change perpetuated old divisions and mistrust and pushed 1.5°C further out of reach.
The upshot is that in spite of the absence of global leadership, climate action momentum reached a tipping point this year. There is now broad consensus on the science, global recognition of the consequences of business-as-usual, and sufficient technological breakthroughs and capital deployment to ensure that the world will effectively transition away from fossil fuels in the coming decades.
The pandemic continued to ravage lives, livelihoods, and politics
The coronavirus pandemic continued to sweep the world, killing more than 5.4 million people globally (including 840,000 in the US) at the time of writing—almost two-thirds of whom died in 2021.
The vaccine rollout started out slow and uneven, leading to the emergence of the highly infectious and deadly Delta strain. Eventually half of the world's population got inoculated, bringing down deaths and hospitalizations. While this was an impressive feat, shots alone did not end the pandemic, as global inequities in vaccine access and high rates of vaccine hesitancy made the world vulnerable to fresh waves and immune escape. As a result, we are now battling Omicron, a highly-mutated variant that's running loose through every continent and increased the urgency of booster shots.
Meanwhile, the pandemic continued to disrupt the global economy. Most rich countries experienced a strong recovery in economic activity in 2021 thanks to large-scale fiscal and monetary support, but the story was different for the developing world, much of which lacked the means to buffer the shock and therefore experienced a slump. However, even in countries like the US where growth recovered to pre-pandemic levels, new waves of the virus disrupted supply chains and drove up the prices of everything from food and energy to cars and shoes.
Frustration and anger reached new highs in most societies after two years of lockdowns, mandates, economic disruptions, and growing inequality. Widening gaps in vaccine access, take-up, and economic recovery within and between countries fanned social unrest and anti-establishment sentiment both on the far left and the far right of the political spectrum, weakening incumbents everywhere.
Frustration and anger reached new highs in most societies after two years of lockdowns, mandates, economic disruptions, and growing inequality. Widening gaps in vaccine access, take-up, and economic recovery within and between countries fanned social unrest and anti-establishment sentiment both on the far left and the far right of the political spectrum, weakening incumbents everywhere.
Frustration and anger reached new highs in most societies after two years of lockdowns, mandates, economic disruptions, and growing inequality. Widening gaps in vaccine access, take-up, and economic recovery within and between countries fanned social unrest and anti-establishment sentiment both on the far left and the far right of the political spectrum, weakening incumbents everywhere.
In other news…
Finally, some links
1. Things to watch:
2. Things to read:
3. Things to listen to:
------------
🥂 Happy New Year, dear readers. Here's to a better, less newsworthy 2022.
🔔 And if you haven't already, don't forget to subscribe to my free newsletter, GZERO World with Ian Bremmer, to get new posts delivered to your inbox.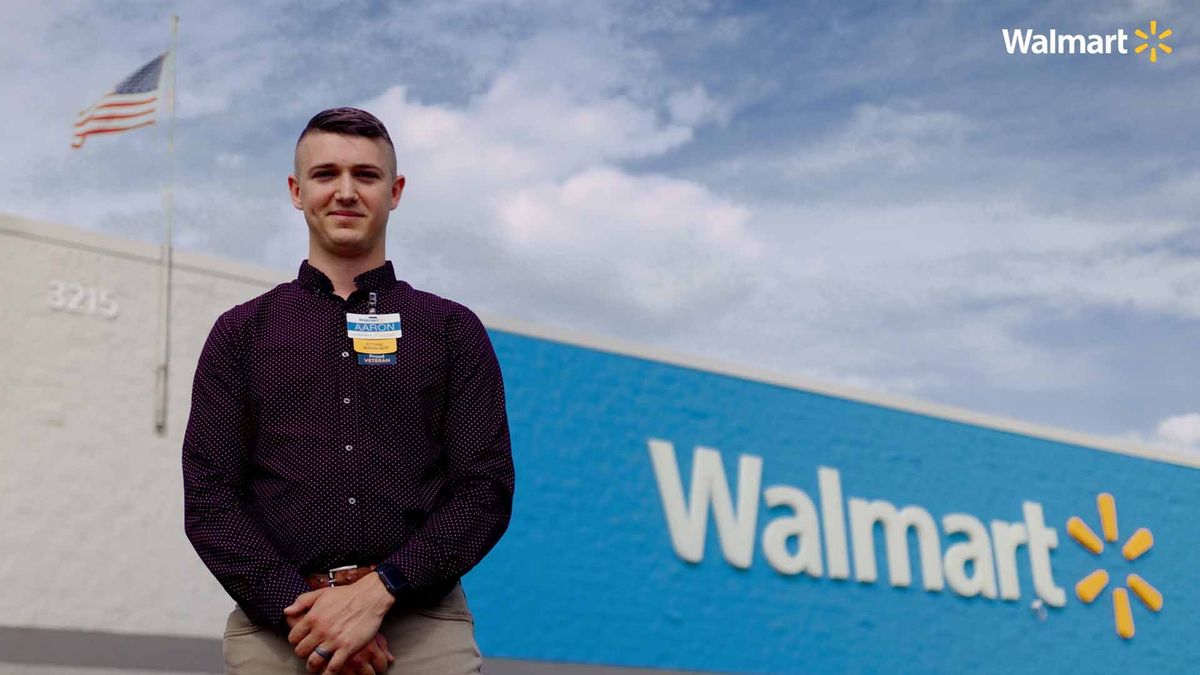 Aaron started at Walmart as a part-time cashier after serving in the Marine Corps, and now he's a store manager. Since 2013, Walmart has promoted more than 60,000 veterans and military spouses. At Walmart, veterans and their families have the unique opportunity to build successful, meaningful careers after serving their country.
Learn how Walmart is supporting veterans during their service years and beyond.