THE GRAPHIC TRUTH: A WORLD GROWING APART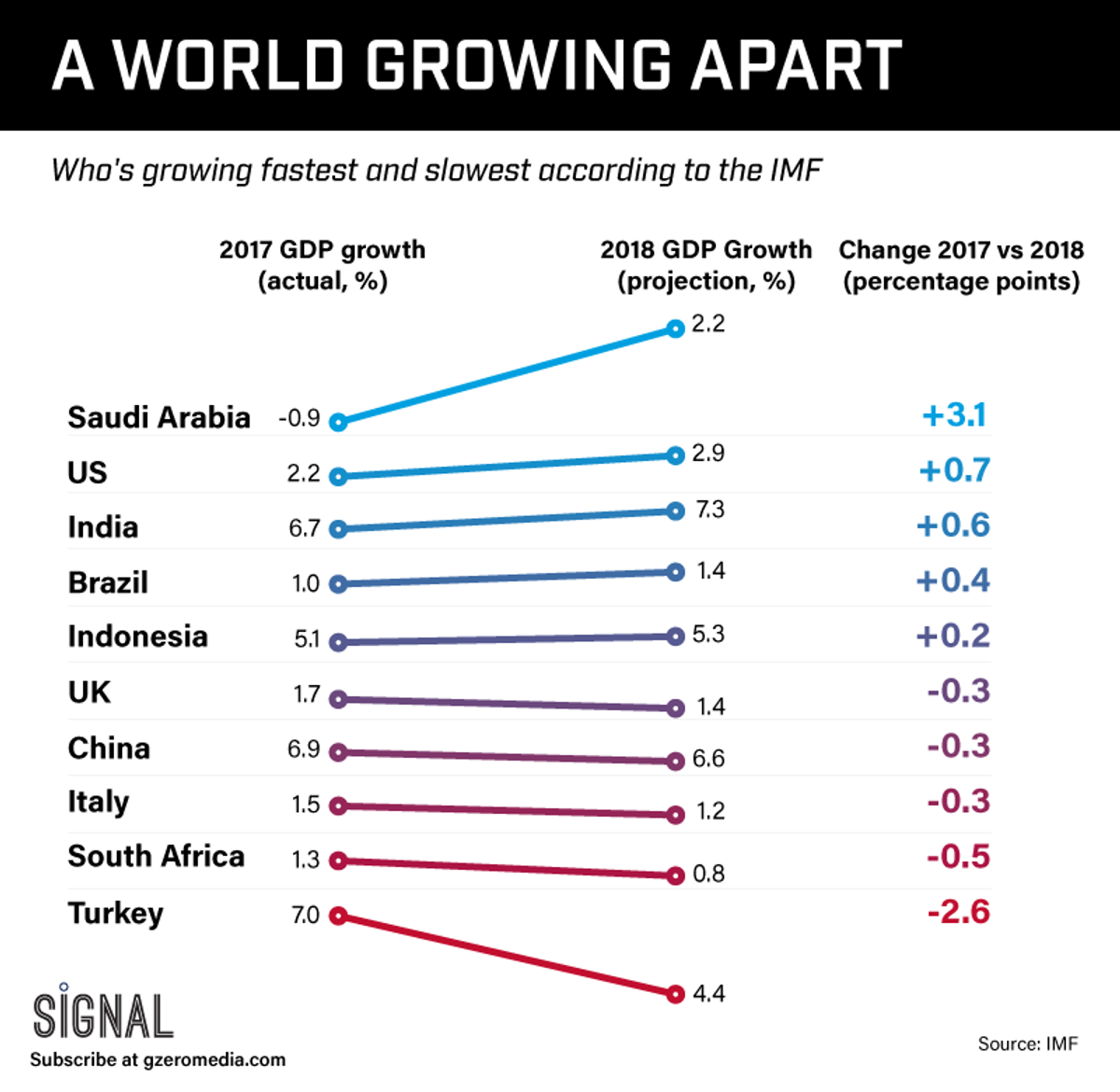 The International Monetary Fund has released its latest World Economic Outlook and… it's not so great. While the world economy continues to expand steadily at an annual clip of 3.7 percent, the combined effect of rising protectionism, geopolitical tensions, and political upheaval in key economies could soon throw a spanner into the works.
---
The graph above provides a look at a handful of the biggest countries where growth is picking up or slowing down the fastest.
And here are a few highlights where domestic politics are playing directly into the economic outlook:
Saudi Arabia – Crown Prince Mohammed bin Salman's bid to liberalize certain aspects of his country's deeply conservative society and the natural process of recovery from the previous year's recession have nudged up economic growth (+3.1 points) fast. But his ruthless power grab – which includes crackdowns on activists and businessmen, and may now involve the murder of an opposition journalist – could undermine growth if investors fear he's overplayed his hand.
United States – American politics and society may be extremely polarized, but the economy is humming along as President Trump's tax cuts and deregulation measures have lent further momentum to a long-running recovery (+0.7 points). But his protectionist impulses could yet throw a damper on growth as businesses begin to reduce trade with China and other markets and consumers cut back on purchases.
Brazil – After a harrowing few years of economic crisis, Brazil is set to grow faster in 2018 (+0.4 points). And while presidential frontrunner Jair Bolsonaro's nostalgia for dictatorship raises alarm bells about the durability of Brazilian democracy, his commitment to neo-liberal economic policies has placated investors for now. Still, progress on economic challenges that could catalyze long-term growth – such as reforming a bloated pension system – will require coalition building that the controversial and inexperienced Bolsonaro may not be able to muster.
Turkey – President Erdogan's economic mismanagement and geopolitical missteps have plunged Turkey into a deep currency crisis that threatens the country's broader financial and economic stability (-2.6 points). But his strongman approach leaves little room to make critical compromises on fiscal and financial policy – meaning that the outlook is as uncertain as ever for the Middle East's second-largest economy.