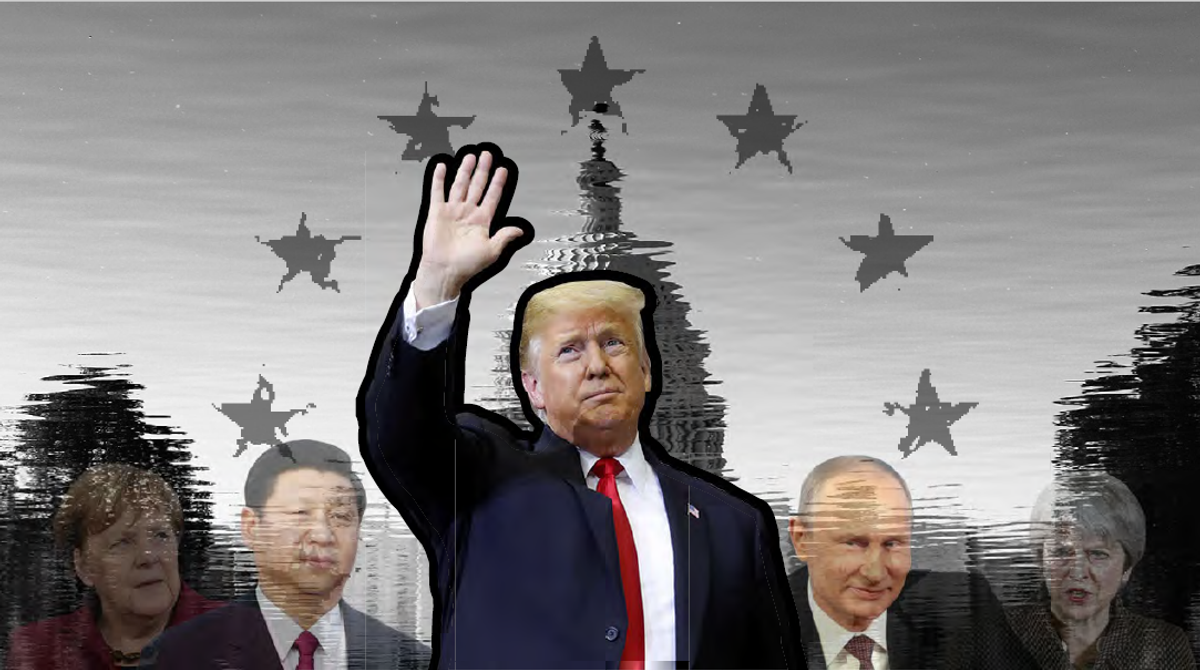 US-China relations are hitting the skids. The future of the Middle East is doubly uncertain now that US President Donald Trump wants to pull American troops out of Syria. Meanwhile, politics in Washington, DC are about to become a bitter smackdown.
---
And don't forget about the possibility of a no-holds barred cyber conflict.
But are any of these things the most important risks to watch in 2019?
Every January our parent firm, Eurasia Group, publishes a Top Risks report, which identifies the major political and geopolitical risks to watch in the year ahead. The full report is online (see it here), but here's a one sentence version of each risk to pique your interest (and your pulse.)

Let us know your thoughts…
10. Nigeria's presidential election, whichpits the ailing President Muhammadu Buhari against business tycoon Atiku Abubakar, could return an inconclusive result that leads to post-election upheaval in Africa's largest economy.
9. Ukraine: A little tension between Moscow and Kiev helps the presidents of both countries at home, but as Russia seeks to influence Ukraine's presidential and parliamentary elections this year, the armed standoff between the countries could get hot again, fast.
8. Mexico's popular and powerfulnew president, Andres Manuel Lopez Obrador, brings to office a centralized style and spendthrift plans to tackle inequality and security that could rattle Latin America's second largest economy.
7. Coalition of the Unwilling: Trump may be unpopular at home and among the globalist elite, but a growing group ofpopulist, nationalist, and authoritarian leaders around the globe will all bolster Trump's revisionist impulses on the world stage.
6. Innovation Winter: The global environment for technological innovation will feel a chill this year as governmental and popular backlashes over security and privacy lead to tighter restrictions on investment and data use across major economies.
5. US domestic politics is going to get supremely ugly as Democrats assume the House and a combative President Trump responds to a slew of investigations in ways that could lead to a constitutional crisis.

4. European populists will gain firmer footing within EU institutions in elections slated for May, giving them an opportunity to reshape theEU's policies on immigration, trade, and democratic norms.
3. The cybergloves will come off this year as theUS goes on the offensive with its powerful cyberweapons as a show of force, and blowback from non-state actors as well as nation state rivals like Russia, China, and Iran could open a Pandora's box in cyberspace.
2. US-China relations will get worse as the world's two largest economies diverge on a whole lot more than just trade – technology, industrial policy and potentially even the South China Sea will emerge as bitter points of contention this year.

1. Bad seeds: The fraying of US alliances, erosion of the European Union, and deepening discord between the world's major economies are all "bad seeds" – none will lead to a catastrophe this year, but left untended they will put down deeper roots that erode global stability and leave the world vulnerable to fresh economic or security crises.
Don't want to read? Check out our →Top Risks 2019 video,directed/scored by yours truly.