Trump Vows Mexico Tariffs: Who would they Hit, and Why?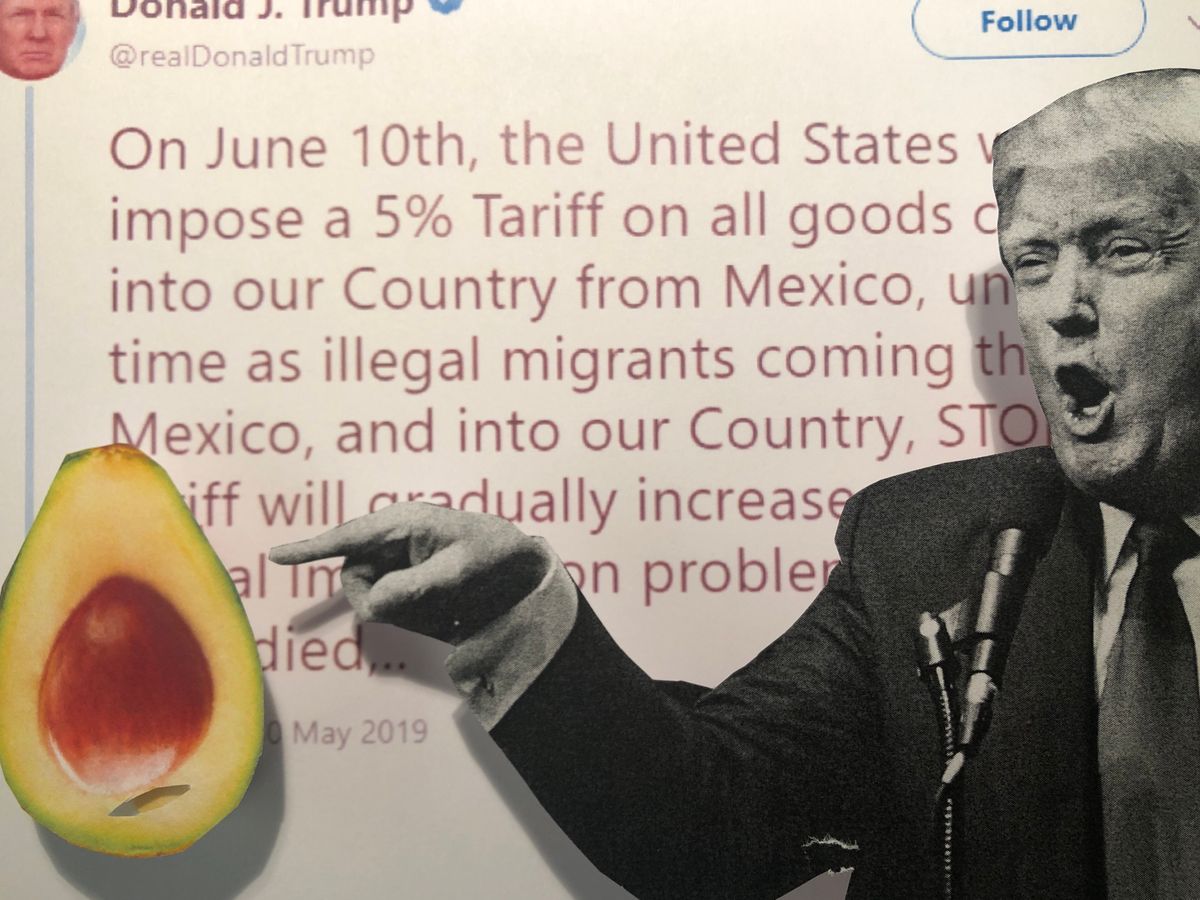 President Donald Trump tweeted yesterday that, beginning on June 10, the United States would impose a 5 percent tariff on all goods entering the US from Mexico "until such time as illegal migrants coming through Mexico, and into our Country, STOP." He added that the tariff rate would steadily rise "until the illegal immigration problem is remedied."
A few thoughts:
This will affect lots of things that Americans buy: Mexico recently became the US' largest trade partner (in part because of the US-China trade spat). If these tariffs move forward, Americans looking to buy cars, electronics, and the makings of a fresh salad will pay more. Note: tomato-lovers and avocados-aficionados are particularly exposed.
Mexico can retaliate, a bit. Mexico's economy is much smaller than its northern neighbor's, so it has less leverage. But it can still target American exporters of meat, cheese, potatoes, cranberries, bourbon and speedboats (speedboats!) with retaliatory tariffs that could cripple their sales in Mexico, a major market. Mexico has done this once before, in response to Trump's metals tariffs last year.
The USMCA trade agreement, also known as NAFTA 2.0, is in serious jeopardy. The agreement has not been ratified in either the US or Mexico. US Democrats, led by House Speaker Nancy Pelosi, object to parts of the agreement and have delayed a vote. Trump appears to be preparing to force that vote anyway. If it comes, the treaty may well be rejected.
Will it work? Trump has made the fight against illegal immigration the heart of his political message since he first launched his presidential campaign. Turning the screws on Mexico over this issue plays well with his base as he heads into 2020. But a total "STOP" to undocumented migrant flows is virtually impossible, so what specifically does he want from Mexico now? Mexican President Andres Manuel Lopez Obrador has dispatched an envoy to Washington to find out.
Could it backfire? These tariffs would certainly hurt the Mexican economy far more than the US economy. But if Mexico's economy sinks, more people will want to leave Mexico, meaning more pressure at the US-Mexican border. And a crippled economy will leave the Mexican government with less money to address precisely the border problems that Trump says he wants solved.
Bottom line: The world is again reacting to a tweet, and Trump could just as easily reverse this plan. If not, these tariffs will have serious implications for Latin America's second-largest economy, for American consumers, and for US politics ahead of the presidential election.
Keep your eye on the timeline.