What We're Watching: A fracas in Caracas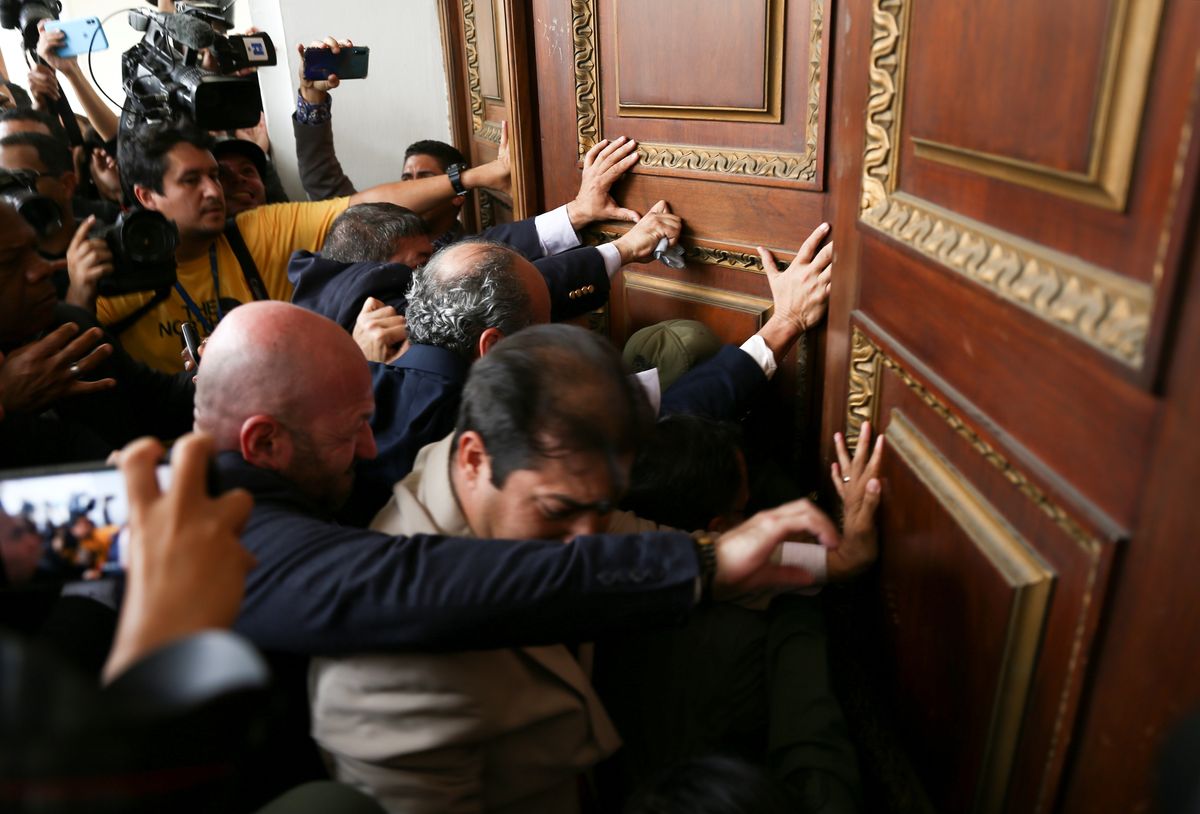 A fracas in Caracas – Venezuelan opposition leader Juan Guaido was voted out as speaker of the country's Congress over the weekend after soldiers stopped him from entering the building. (He tried to jump a fence, but was stopped by soldiers with riot shields.) That allowed an ally of strongman Nicolas Maduro's government to claim the post instead. Guaido, whom the US and several other countries have recognized as Venezuela's legitimate leader, won a second vote by lawmakers who gathered at the offices of an opposition newspaper, and he's contesting what some people are calling a "parliamentary coup." Guaido called the fracas "another blunder" by the regime and pushed through the military cordon on Tuesday onto the floor of Congress, where he and his supporters chanted "here, the people rule!" Still, the duelling claims to the speakership are yet another blow to his sputtering anti-Maduro insurgency.
---
John Bolton – On Monday, President Trump's former national security adviser John Bolton issued a statement that "if the Senate issues a subpoena for my testimony, I am prepared to testify" in the Senate impeachment trial. That's a potentially big deal, because Bolton, formerly a key player in Trump's foreign policy team, is widely respected among Republicans, and many Democrats believe his testimony would prove deeply embarrassing, and perhaps politically damaging, for the president. Bolton will testify only if 51 senators—and, therefore, at least four Republicans—vote to make it happen. We'll be watching to see if Bolton is called to testify, what the White House might do to try to stop him, how Bolton's testimony is shared with the public, and exactly what he has to say.
Spain has a (fragile) government – After nearly a year of caretaker government, Spain's socialist leader Pedro Sanchez secured a (very) narrow parliamentary majority on Monday, allowing him to form the first coalition government in modern Spain's history. Sanchez's Socialist party, which finished first in two inconclusive elections in 2019, was finally able to form a government thanks to the backing of smaller regional parties, including a grouping of Catalan separatists. With his coalition partner, the left-wing Unidas Podemos party, Sanchez will push for tax increases for high-income earners and other new policies. But in the highly fractious parliament, the government will need to negotiate with other parties to pass legislation – including those disgruntled separatist lawmakers who want a binding independence referendum in Catalonia. Will Spain's protracted political stalemate come to an end, or will it be deadlock as usual?
What We're Ignoring
The Pentagon's "mistake" – After 17 years of gruelling combat and painstaking negotiations, the US presence in Iraq appeared to be coming to an end. So said a message on US Army letterhead delivered to Iraqi military officials on Monday before making its way to the American media. "We respect your sovereign decision to order our departure," it read, responding to the recent Iraqi parliament vote ordering the expulsion of US forces from its country. But the memo's veracity was undercut in less than an hour when the Pentagon said that release of the letter – a draft – was a "mistake." Soon after, another Pentagon official said it was actually fake, calling it "active disinformation." We're ignoring this confusion because we're pretty sure that if the US decides to pull out of Iraq, we'll hear about it first from President Trump on Twitter.