What We're Watching: Thai monarchy ruling, weed vs coke in Colombia, Moroccan olive twig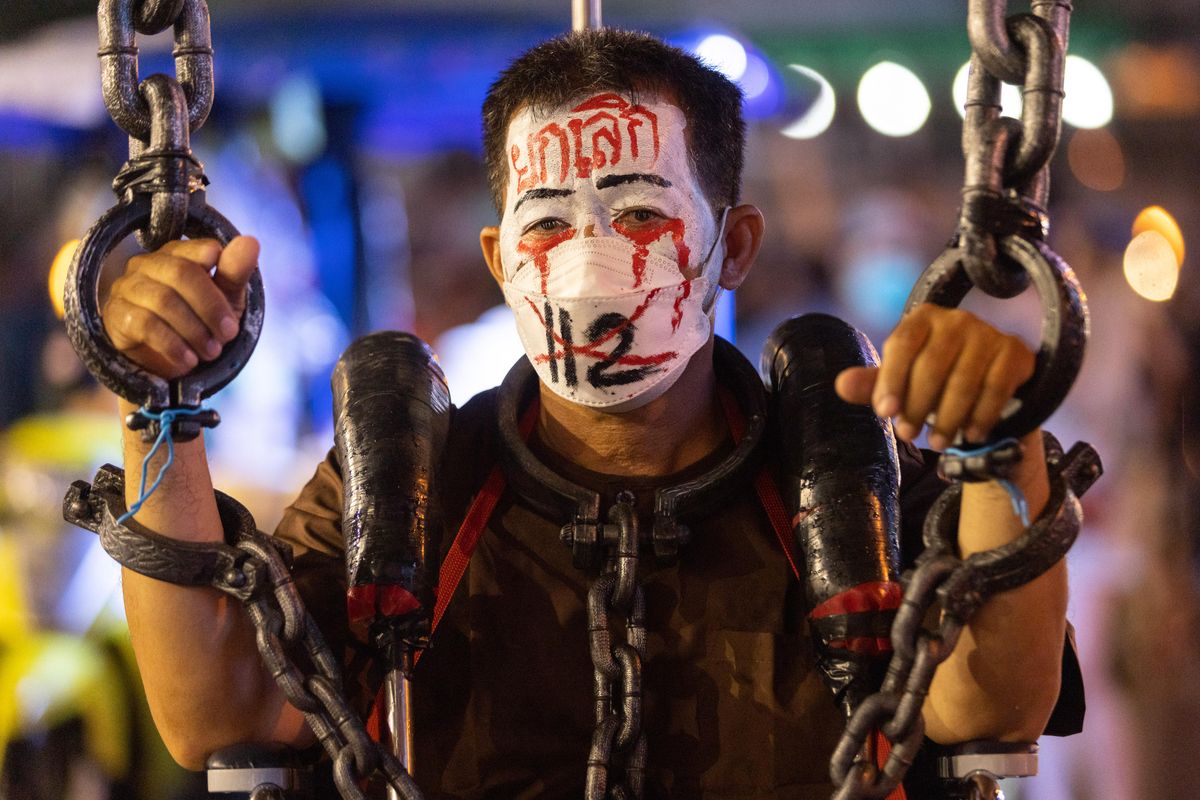 Phobthum Yingpaiboonsuk / SOPA Images/Sipa USA
Don't mess with the Thai king. A Thai court has ruled that calls by three youth protest leaders to reform the monarchy are an unconstitutional attempt to overthrow the country's political system. Although the verdict is symbolic and won't carry a jail term, it paves the way for the activists to be tried for treason, which is punishable by death. But it's also a double-edged sword. On the one hand, the ruling is a clear warning shot to the youth-led protest movement that last year shocked Thailand by for the first time openly questioning the role of the king, a taboo subject until then. On the other, actually executing protest leaders could turn them into martyrs, driving more of their followers into the streets to face off against government forces. Regardless, the controversial notion of curbing the king's powers is now at the very center of Thai politics: it's the inevitable future for millennials and zoomers, a third-rail issue for mainstream political parties, and a non-starter for the all-powerful Rama X himself.
Can medical weed bring down the high of Colombia's cocaine industry? After decades of trying to stamp out a coca industry that has fueled violence and conflict, the Colombian government is looking to cannabis for help. President Iván Duque wants to boost the cultivation of medical marijuana as a more lucrative, eco-friendly, and less socially-damaging substitute crop for Colombian farmers. Duque, a strong opponent of decriminalizing drugs, made clear that the strategy would apply only to growing cannabis for medical rather than recreational use. He also continues to advocate aerial spraying as a means of eradicating coca crops, despite questions about the effectiveness and environmental impact of this approach. Coca cultivation in Colombia has reached record highs in recent years, as drug cartels have benefited from the poor implementation of Colombia's historic 2016 peace deal with FARC rebels, taking over drug-producing areas of the country that those militants once controlled.
An olive twig from Morocco to Algeria.
Tensions between Morocco and Algeria have flared recently, over Algiers' support for separatists in Western Sahara, a former Spanish colony that Morocco considers its own territory. For half a century now, the militants of the Polisario Front have been waging a
struggle for independent control
over the region, a resource-rich swath of land blessed with plentiful fisheries that lies along a critical trade route for Morocco. Algeria has long backed the rebels as a way to needle Morocco. Earlier this year, Western Sahara
figured prominently in a dispute between Morocco and Spain
over migration flows to Europe. But in August, Algeria cut ties with Rabat over the issue, and last week accused Moroccan forces of killing three Algerian civilians in the area. Against that backdrop, Morocco now
says
it wants to "turn the page" on tensions with Algeria. But it
also
says that its demand for sovereignty over Western Sahara — only recognized by the US — is "legitimate" and non-negotiable. That's not quite an olive branch, but we'll call it a twig and see how this plays out.