What We're Watching: Indian farmer revolt, EU vs vaccine makers, Myanmar saber-rattling, Maduro's miracles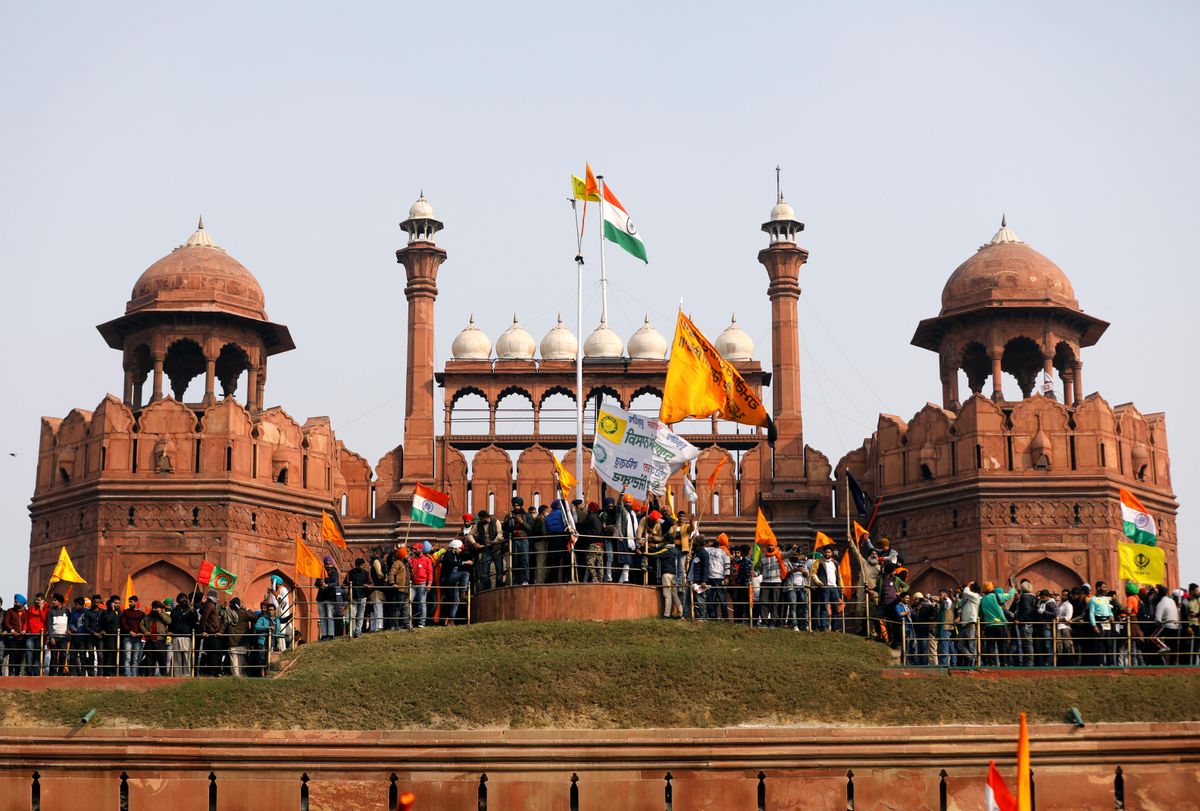 Angry farmers take Indian fort: In a major and violent escalation of ongoing protests over new agriculture laws, thousands of Indian farmers broke through police barricades and stormed the historic Red Fort in New Delhi on Tuesday. At least one protester died in the chaos, while the government shut down internet service in parts of the capital. Farmers and the government are still deadlocked over the new laws, which liberalize agriculture markets in ways that farmers fear will undercut their livelihoods. The government has offered to suspend implementation for 18 months, but the farmers unions are pushing for a complete repeal. Given that some 60 percent of India's population works in agriculture, the standoff has become a major political test for the government of Prime Minister Narendra Modi's ruling BJP party.
---
EU threatens vaccine export controls: Fed up with delays in vaccine supply, the EU is threatening to impose export controls on the jabs unless pharma companies hand over more doses. The threat comes after Italy threatened to sue Pfizer for cutting the amount of vaccine doses it would supply, and AstraZeneca — whose jab has yet to be approved for use by EU health regulators — announced it'll cut supplies to the bloc by 60 percent. That nuclear option will likely be met with strong pushback from the pharmaceuticals, and may delay delivery of EU-made jabs bound for non-EU countries. Brussels is running out of options to ensure the 27 EU member states get enough vaccines to ramp up immunization as the continent suffers a third wave of the pandemic, and before new COVID strains potentially render the vaccines less effective. We're watching to see how the drug makers react to the threat of export controls, and whether the problem drags on and thus sets back the EU's plans of achieving herd immunity in a few months' time.
Coup in Myanmar? More than ten weeks after Myanmar held only its second national election since democracy was "restored" less than a decade ago, the outcome is still in limbo over objections from the party backed by the military. The now-dominant National League for Democracy has claimed a landslide win in the December vote. But the generals — whose party ran the show until 2015 — have alleged voter fraud, and ominously warned they may "take action" if the election commission doesn't fully investigate. Under the 2008 constitution, the military-backed party is entitled to a quarter of all seats in parliament and the national security portfolios in the cabinet, but the military has long aimed to become a viable alternative to the NLD, which is headed by Nobel Peace laureate Aung San Suu Kyi. Until now, Suu Kyi has kept the generals at bay by sharing some power, but in Myanmar — where the military has ruled for most of the country's post-independence history — Suu Kyi needs to watch her back.
What We're Ignoring
Maduro's "miracle" drug
: Finally, a cure for COVID! Easy to take! No side effects! Tastes great! Gives your hair a luscious sheen, acts as a mosquito repellent, and might just help you find the perfect parking spot! Forgive us for ignoring
Venezuelan President Nicolás Maduro's claims
that he has hit upon a miracle treatment for coronavirus. He claims that the new drug, Carvativir, was tested for nine months in a Caracas hospital but he has offered no scientific evidence for his claims. We are skeptical, but — but! — if Maduro is willing to throw in a free bottle of Original Orinoco Snake Oil as part of the package, we'll take the plunge and order up a case of Carvativir anyway.