World on fire, meet politics: A conversation with Andrew Revkin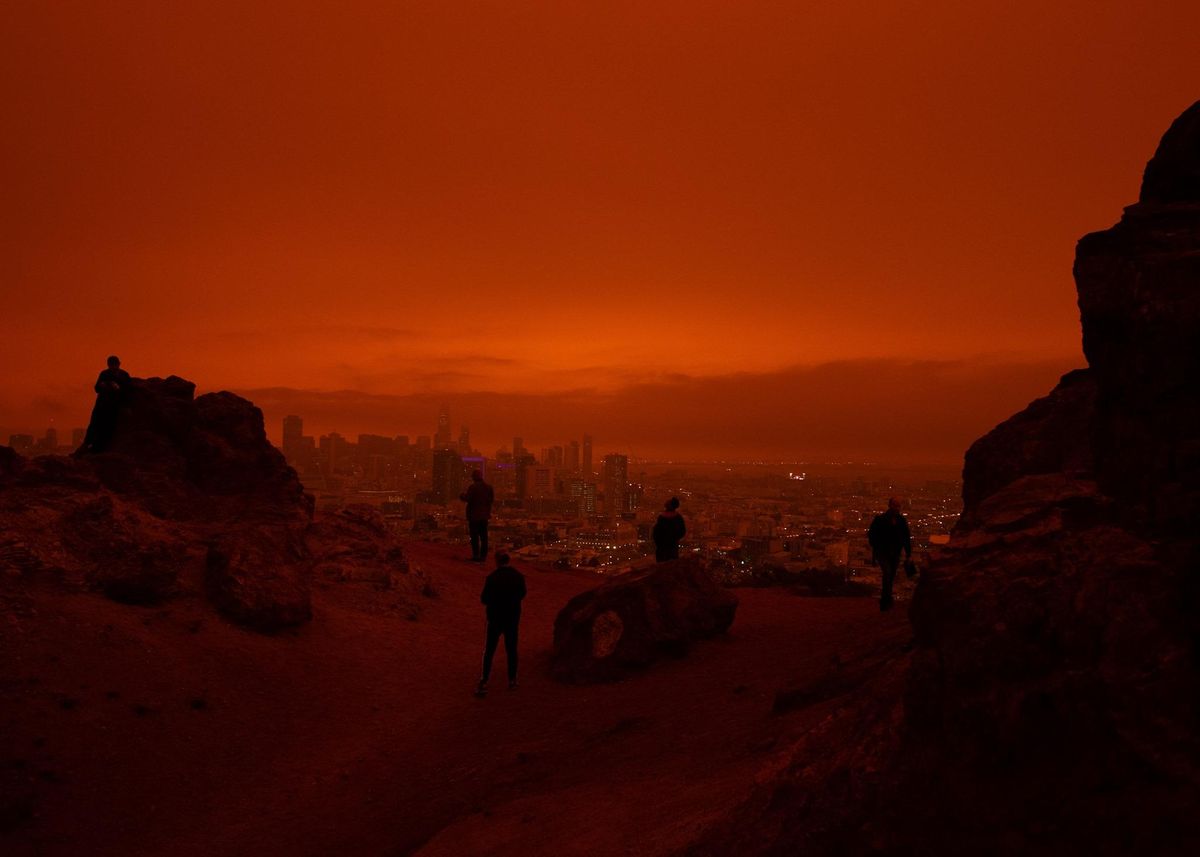 On Monday, the Intergovernmental Panel on Climate Change (IPCC) released an extremely important, if grim, report on the state of climate science. You can watch my Quick Take on it below and on GZERO Media:
Today I'm joined by Andrew Revkin, director of the Initiative on Communication and Sustainability at Columbia University's Climate School and fellow Bulletin writer. A journalist by trade, Andy has been covering climate change and sustainability issues longer than almost anyone else. We had a lively conversation over email. A (lightly edited) transcript follows.
---
Ian Bremmer
What's new in this latest report?
Andrew Revkin
I laid out quite a few observations in a post on Monday and a live stream today, but here are some key points. The 42-page summary and more than 3,000 pages of detail powerfully advance the picture of a human-disrupted climate compared to where the basic science of climate change was when the last such assessment was published in 2013. Models and methods have improved. Many years of additional observations of past and current ocean, climate and land conditions have accumulated. New concepts have moved into the foreground—particularly "compound" threats like simultaneous heat and drought. Contrary to what was believed a decade ago, the report notes that every incremental step to avoid new heat-trapping emissions is a step toward slowing overall long-term warming. (As you've noted, that doesn't mean it's likely we'll come close to the Paris targets.) At the same time, there's much more locked-in change coming with sea levels. But as with warming, ambitious emissions curbs would make a big difference in coastal disruption by 2100.
Want to understand the world a little better? Subscribe to GZERO Daily by Ian Bremmer for free and get new posts delivered to your inbox every week.
What's not new is that the Working Group I report, on its own, is completely insufficient for policy makers or anyone looking for ways to reduce risk or slow warming.
What's your read as an informed climate observer and political analyst?
Ian Bremmer
My first, positive takeaway is that there is finally overwhelming consensus on the science of climate change. Sure, 'settled science' is an oxymoron, but we're at a point where there's virtually nobody serious out there denying that climate change exists, that it is largely man-made, and that it is a "code red" threat. The second good news in my view is that the science has gotten better, in the sense of increased precision and lower uncertainty around model projections. That's useful insofar as it lets us plan only for the things that might plausibly happen.
Where there is disagreement, certainly at least from me and the climate practice at Eurasia Group, is on whether the world can realistically limit global warming to 1.5 degrees C above pre-industrial levels. The IPCC report is, in our view, overly optimistic about this scenario, given recent history and political realities. Or perhaps they're not overly optimistic and the claim is a tactical one, a way to stave off complacency. There is certainly a lot of political capital that's been invested in the 1.5-degree goal. Either way, I think it's foolish to aim for an impossible target. Our best-case scenario puts global warming at 2.5 degrees C. That's a significant reduction, but it paints a picture of a world that is still radically more dangerous than today's.
Andrew Revkin
I've long pointed to what I call a "reality gap" when looking at IPCC and other scenarios aiming to eliminate the "emissions gap" between nations' climate pledges and the temperature thresholds they pledged to avoid under the Paris Agreement. That's one reason I have little confidence the world will limit warming anywhere near those targets. So I'm pretty aligned with the Eurasia Group's assessment. But that's a journalist's view. What is the core of your analysis?
Ian Bremmer
For starters, 1.5 degrees C is predicated on all nations doing their part. The US and the EU are (more or less) on track—the challenge is convincing China, India, Brazil, Nigeria, Indonesia and other large low- and middle-income countries to follow suit. But they look at industrialized countries and see that not only are they responsible for the vast majority of historical emissions, on the back of which they grew rich, but also that they still emit far more carbon per capita than they do. The hypocrisy is glaring. At the end of the day, though, the climate doesn't care about equity and fairness. Only total emissions count. Yes, rich countries should bear the largest cost for carbon reduction, but it's also clear that a decarbonization drive that doesn't include China and India is doomed. I'm not hopeful that these countries will be able and willing to participate in this transformation at the level and speed required without substantial help.
Which brings me to my second reason for pessimism. The US and the EU have the resources and the capacity to help developing countries decarbonize quickly. To compensate them for the foregone development gains of burning coal a few more decades. To mobilize the vast power of their financial markets, central banks, regulatory agencies, and business communities in service of a global green transition. What they don't have is the political space to do so. In the US, political dysfunction, polarization, and—frankly—lack of broad-based popular support constrain the ability of the Biden administration to do as much as it'd want to, not just domestically but also in terms of leading the world. The EU fares a little better but is also hamstrung by internal divisions, and in any case lacks the scale to make the move by itself.
But let's step away from decarbonization for a second. In your work, you've been urging for paying much more attention to what we can do to reduce climate vulnerability on the ground, beyond just cutting emissions. Now, you're not saying that emission cuts don't matter. It's just all the focus and coverage has always been on mitigation, when the real low-hanging fruit lies in preparedness. But the two are not mutually exclusive and we should absolutely be doing both. Do I get that right?
Andrew Revkin
There is no ethical or practical way to cut climate risk—which is the core reason there is an IPCC to begin with—without aggressive work to cut both exposure and vulnerability to climate hazards now (alleviating poverty, promoting access to safe housing and land, restricting dangerous development patterns) and to cut heat-trapping emissions to stop worsening the hazards themselves going forward (extreme heat, flooding, sea rise, etc.).
But building a dual narrative remains a grand challenge. Through most of my 34 years (and counting) of climate reporting, I (like most of my peers) was captured by a narrative that put the change in the climate system, global warming, in the foreground. That was partly because I came at this first as a science writer, and climate change science is an incredibly interesting and consequential body of science. It was partly because the global warming issue grew around existing templates for pollution problems where the solution was at the source—smokestacks and tailpipes. We didn't address smog with gas masks. And it was partly because giant powerful companies were an easy enemy. Environmental groups raised money and grew big around those framings, and journalists like me thrived, too. Of course, it's vastly more complicated than that. As I wrote on Monday, "China's Communist elite hasn't vaulted that vast country to the top of the global emitters list because of fossil-industry lies."
Many political and cultural factors have sustained a hyperfocus on cutting climate-heating emissions at the source rather than cutting distributed climate risks. Doing so ignores well established science showing that the rise in losses and damage from climate-related hazards in recent years is still mainly from growing exposure and pockets of deep vulnerability on the ground, not some change in the hazard itself.
Ian Bremmer
Even if the world suddenly found the will to engage in aggressive mitigation starting tomorrow, that wouldn't help the tens of millions of people who would continue to be exposed to sometimes deadly climate disruption until those emissions cuts materially reduced climate hazards. That would take, what, 15-20 years at least? Or is it the next 30-40 years of hazards that are already locked in? Psychologically and politically, I think it makes a world of difference.
Andrew Revkin
I keep pointing out that no significant climate-resilience gains come from cutting climate-heating emissions for decades—and, yes, that can be a buzzkill. But that's where I think the dual focus—cutting emissions now as a legacy benefit and cutting vulnerability now as a real-time win—can boost overall buy-in.
I first reported on efforts to point out the possible strategic benefit of stressing adaptation in a 2006 New York Times story. I centered in part on "Americans and Climate Change," a book put together by Dan Abbassi that posited that adaptation may help people focus on the reality of what is coming—and that may motivate them to cut emissions to limit the chances of bigger changes to come. The approach was largely ignored by environmental groups, which kept focusing tightly on emissions. That is changing. But it won't be easy. It's hard to push both messages. It took Al Gore from 2002, when he called adaptation "laziness", until 2013 to admit that he "was wrong in not immediately grasping the moral imperative of pursuing both policies simultaneously, in spite of the difficulty that poses." Sadly, he doesn't make this point publicly much even now.
Ian Bremmer
I wonder whether the same hurdles facing mitigation policies in terms of incentives, vested interests, status quo bias and coordination failures don't also preclude progress on adaptation. On the one hand, adaptation is a local public good, not a global one. There's no global coordination problem to overcome. No free rider problem. And more limited geopolitics. When it comes to managing vulnerability, it's every community for itself. But there's a risk to that, no? Self-reliance is great for rich communities or for those that are not very exposed to climate hazards, but what happens to poor communities that can't afford to reduce their vulnerability, even when the popular backing and political will are there? Incidentally, these tend to be—both within and across countries – the communities that are most exposed to climate hazards, i.e., the ones that need adaptation the most. In that sense, the challenges are similar to those ailing mitigation.
Why are you hopeful that we can overcome inertia and coordination failures more easily when it comes to cutting vulnerability than to cutting emissions?
Andrew Revkin
I'm hopeful when I look at Bangladesh and the Netherlands, which have demonstrated (in poor and prosperous contexts) that enormous progress can come in cutting vulnerability to worst-case hazards, often as much through more social cohesion, connectedness and coordination as through massive infrastructure investments. But this will be extremely hard. There are many reasons, one being that scientists largely still debate how to measure community resilience or adaptive capacity. Development banks and others are loath to invest in something that isn't easily quantified. By the way, that bias is one big reason the vast majority of climate-related development assistance flowing from rich to poor countries is going to low-carbon energy projects instead of resilience and adaptation work.
In the end, one simple way to distill this side of the work is to focus on any steps that move people out of poverty and also toward agency or political representation. It's important not to be too climate-centric in all of this. The challenges in climate risk reduction are largely the same facing other hazards—a reality I've unfortunately gotten to know covering earthquakes and tsunamis.
I'm incredibly grateful for the decades of thankless, largely voluntary work thousands of climate scientists and other experts have put into the six climate assessments and special reports from this pioneering experiment in science advice at global scale. Still, I sometimes muse, even after three decades zoomed in on global warming, whether the world would be better off with an IPRR, an Intergovernmental Panel on Risk Reduction. But that's for another day.
🔔 And if you haven't already, don't forget to subscribe to my free newsletter, GZERO Daily by Ian Bremmer, to get new posts delivered to your inbox.