What We're Watching: Republican House, Israeli robo-guns, Poland's back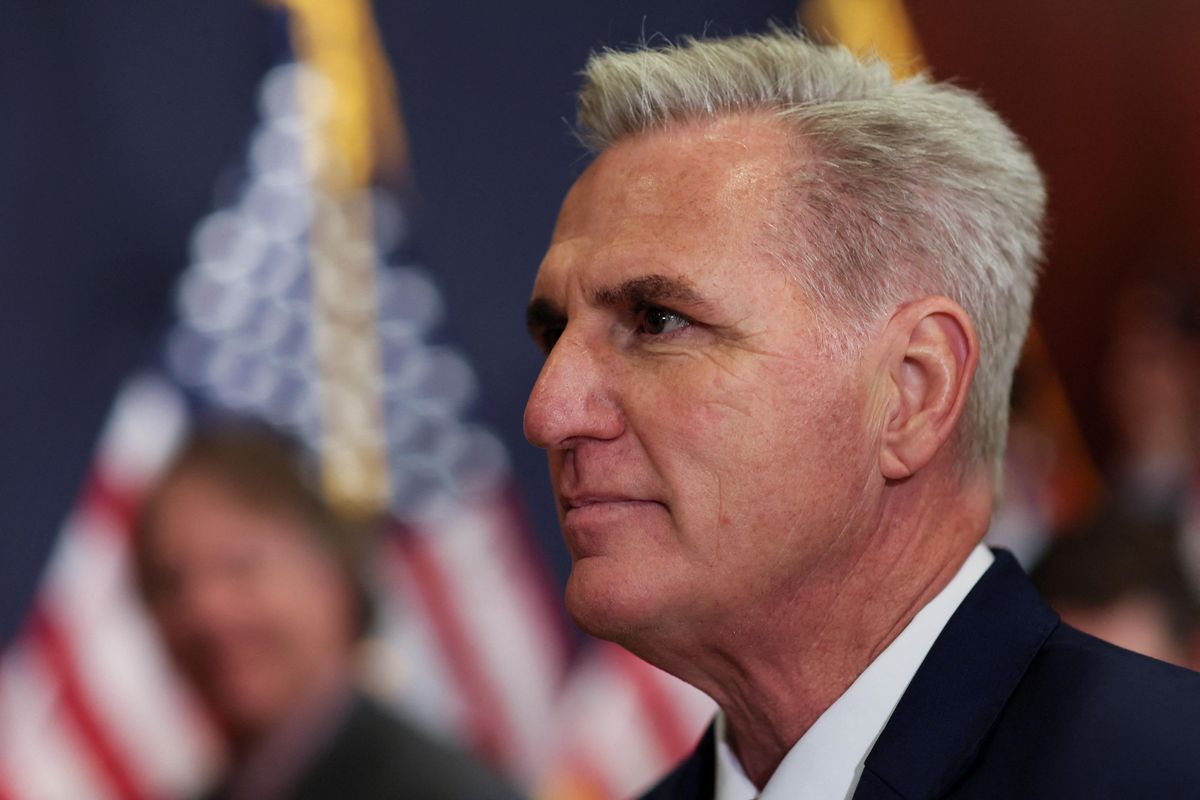 REUTERS/Leah Millis
GOP wins slim House majority
More than a week after the US midterm elections, the Republican Party finally clinched its 218th seat in the House on Wednesday, giving the GOP a razor-slim majority in the chamber. But with several races still not called, the exact margin remains unclear — the tighter it is, the harder it'll be for Kevin McCarthy, who's expected to replace Nancy Pelosi as House speaker, to keep his caucus together. A Republican-held House effectively kills the Democrats' legislative agenda, although retaining control of the Senate will keep extremist proposals away from President Joe Biden's desk and allow him to appoint federal judges. For the GOP, it's an opportunity to launch investigations on stuff like the origins of COVID, the chaotic US withdrawal from Afghanistan, and the Republicans' favorite target: Biden's own son, Hunter. It might even lead to impeaching the president. On foreign policy, expect the GOP to penny-pinch US aid to Ukraine and make Congress get even tougher on China — perhaps not the best idea after Biden and Xi Jinping decided to cool things down at the G-20 in Bali.
---
AI-controlled guns in the West Bank
You may be worried about the implications of self-driving cars, and fair enough after that rogue Tesla went on a killing spree in China earlier this month. But now consider the challenges of self-shooting … guns. It's not a hypothetical anymore, as Israel has now deployed AI-controlled weapons in the occupied West Bank that can fire tear gas, stun grenades, and sponge-tipped bullets at protesters. Weapons like these are, like remotely piloted drones, hailed as a way to limit soldiers' exposure to battlefield harm. But they naturally provoke a host of legal and moral issues. Who is responsible for misfires or malfunctions? What biases are baked into the AI programs that control them? Could these weapons be hacked? And in conjunction with the use of facial recognition algorithms, do these weapons raise potentially lethal questions about privacy and what human rights activists call "digital dehumanization"? One thing seems certain: 20th-century rules of war will not be adequate for these 21st-century weapons.
What's the view from Poland?
Poles have even more reason to watch their collective back after a missile hit the eastern village of Przewodów on Tuesday, killing two. Polish officials said the hit was unintentional and linked to Ukrainian defenses, but President Volodymyr Zelensky
pushed back on Wednesday
, insisting "this is not our missile." Ukrainians want access to the impact site and have offered to help investigate — and to produce evidence of a "
Russian trace
." Przewodów parents, meanwhile, kept
their children home
Wednesday to avoid sending them to a school located just 330 feet from the blast site. Polish border towns have been fearing spillover from the war in Ukraine since the Russian invasion in February. While many were relieved by the prospect of this being an accident, Poland remains on high alert, and the incident has sparked renewed debate over the need for a NATO-patrolled no-fly zone to thwart Russian missile attacks. Germany rejected the
idea
, but Berlin is offering support to Poland's air defenses. And although the episode highlights the
risk
of tripping into World War III, it's reassuring that both Russia and the West were quick to deny this was an intentional — or escalatory — event.
This was featured in Signal, the daily politics newsletter of GZERO Media. For smart coverage of global affairs that normal people can understand, subscribe here.