The US and Canada's complicated love story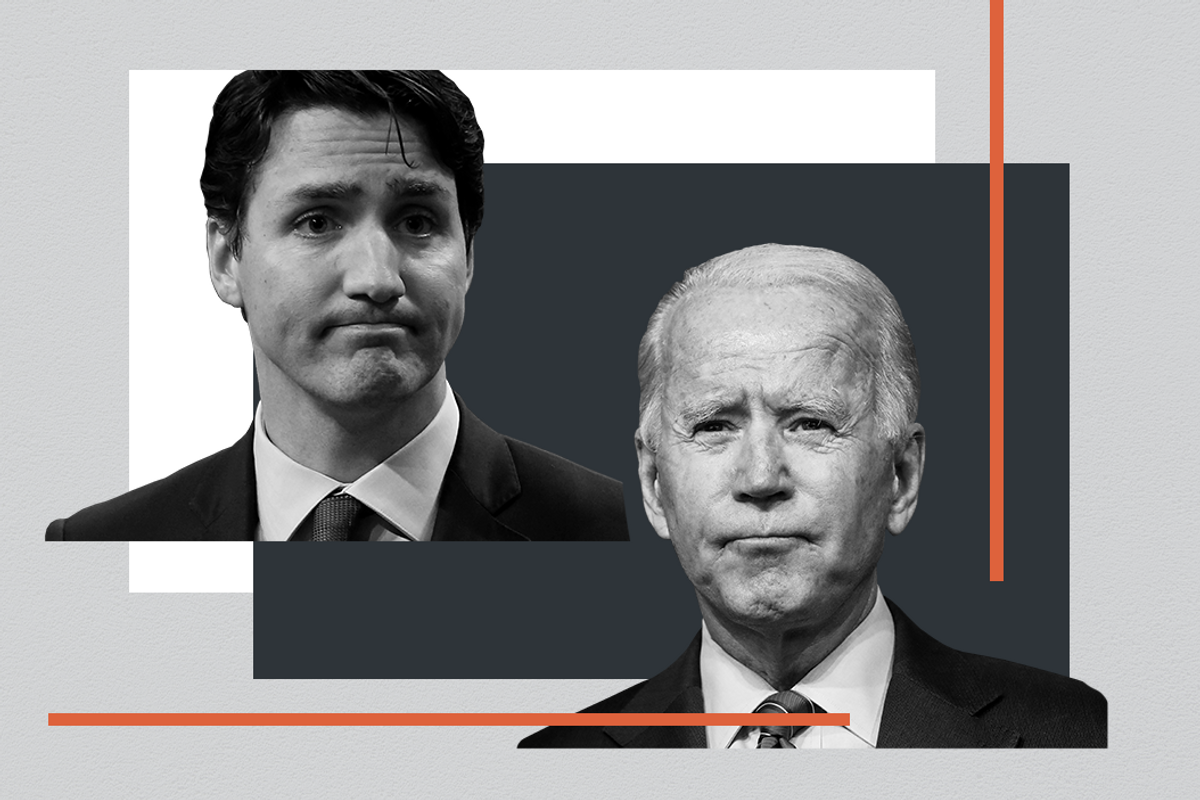 US President Joe Biden has said he wants to patch up a US-Canada relationship that frayed under Trump. In fact, Biden's first phone call to a foreign leader after taking office was to Canada's Prime Minister Justin Trudeau. That makes sense, considering the two long-allied democracies share a continent and do some $700 billion in annual trade across the world's longest land border.

Biden and Trudeau — who was best buddies with Barack Obama, Biden's former boss — share views in many areas, from human rights and democracy promotion to, in principle, climate change. But a host of issues will make it hard to smooth things over completely. What are the main sticking points between Ottawa and Washington right now?
---
🛢Climate and energy🛢. One of Biden's first executive orders scrapped the Keystone XL pipeline project, which would have carried oil from Alberta, Canada, to the Texas Gulf — a boon for Canada's oil industry, the country's number one export and crucial to its post-pandemic recovery. While Biden's move was consistent with his commitment to prioritize investment in clean energy, some in Ottawa felt snubbed by a lack of consultation.
Nixing the deal was a massive blow for Canada, which was relying on Keystone's infrastructure to boost its transportation capacity from landlocked Alberta province to lucrative energy markets in the Gulf Coast. "The US won't bear much of a cost… that will fall almost entirely on Canada," read a recent scathing editorial in Canada's Globe and Mail publication. To be sure, the US stands to lose roughly 3,900 — mostly temporary — jobs over a two-year period because of the axed deal. Still, Canada was on the losing side this time.
💰Trade equation💰. Biden's "Buy American'' executive order obligates US federal agencies to prioritize American bidders for US-based contracts worth more than $10,000. Importantly, it also raises the amount of US material a venture must include in order to be certified as "American-made."
While this protectionist approach to procurement is not new, Ottawa is worried that it will disrupt supply chains as it tries to boost its pandemic-battered economy (Canada's GDP shrank by 5.1 percent in 2020).
The implications of "Buy American" are clear: more American-made products means less foreign made ones. That's a blow for Canadian exports, 75 percent of which are sent to the US. As COVID rages on and the US-Canada border has remained closed for almost a year, these challenges are now more pronounced.
The US-China continuum. Like many other US allies looking towards a future with China as an economic superpower, Canada wants to maintain a robust alliance with a politically volatile US while also seeking to diversify economic relations with a country that could soon be the world's largest economy.
Indeed, Ottawa recently experienced the blowback of having its eggs in (mostly) one basket when the Trump administration slapped tariffs on Canadian aluminium, and demanded the grueling renegotiation of NAFTA. For Canadians, the recent policy volatility from one US administration to the next reinforces the need to make more friends, not fewer.
Chinese telecommunications has also become entangled in the US-Canada-China triangle. Canada has unofficially sidelined Chinese tech giant Huawei's 5G networks to appease Washington. Additionally, the arrest in Canada of Huawei CFO Meng Wanzhou (at the behest of the US for helping Huawei evade US sanctions on Iran) prompted Beijing to arbitrarily imprison two Canadian citizens. Clearly, the combative approach the US has taken towards China in recent years has been inescapable for middle-power Canada.
But China also presents Canada with new opportunities to cooperate on areas of mutual importance like climate change. These dynamics require a carefully crafted balancing act from a liberal pragmatist like Trudeau.
Looking ahead: Canada's longtime problem in Washington — lack of attention — will be profound under Biden. Trudeau and Trump both needed each other to pass a new trade pact, but Biden can make progress on many of his policy priorities (climate change, Iran, immigration) without help from the northern neighbor — and the Canadians know that their help is not crucial for America's new leader.