GZERO Daily: the newsletter for people who love global politics
Sign up for our free newsletter to keep up with what's going on around the world - and why it matters.
Subscribe
GZERO Daily: the newsletter for people who love global politics
Subscribe Now

We have updated our Privacy Policy and Terms of Use for Eurasia Group and its affiliates, including GZERO Media, to clarify the types of data we collect, how we collect it, how we use data and with whom we share data. By using our website you consent to our Terms and Conditions and Privacy Policy, including the transfer of your personal data to the United States from your country of residence, and our use of cookies described in our Cookie Policy.
The Israel-Hamas war: Where we are, two weeks in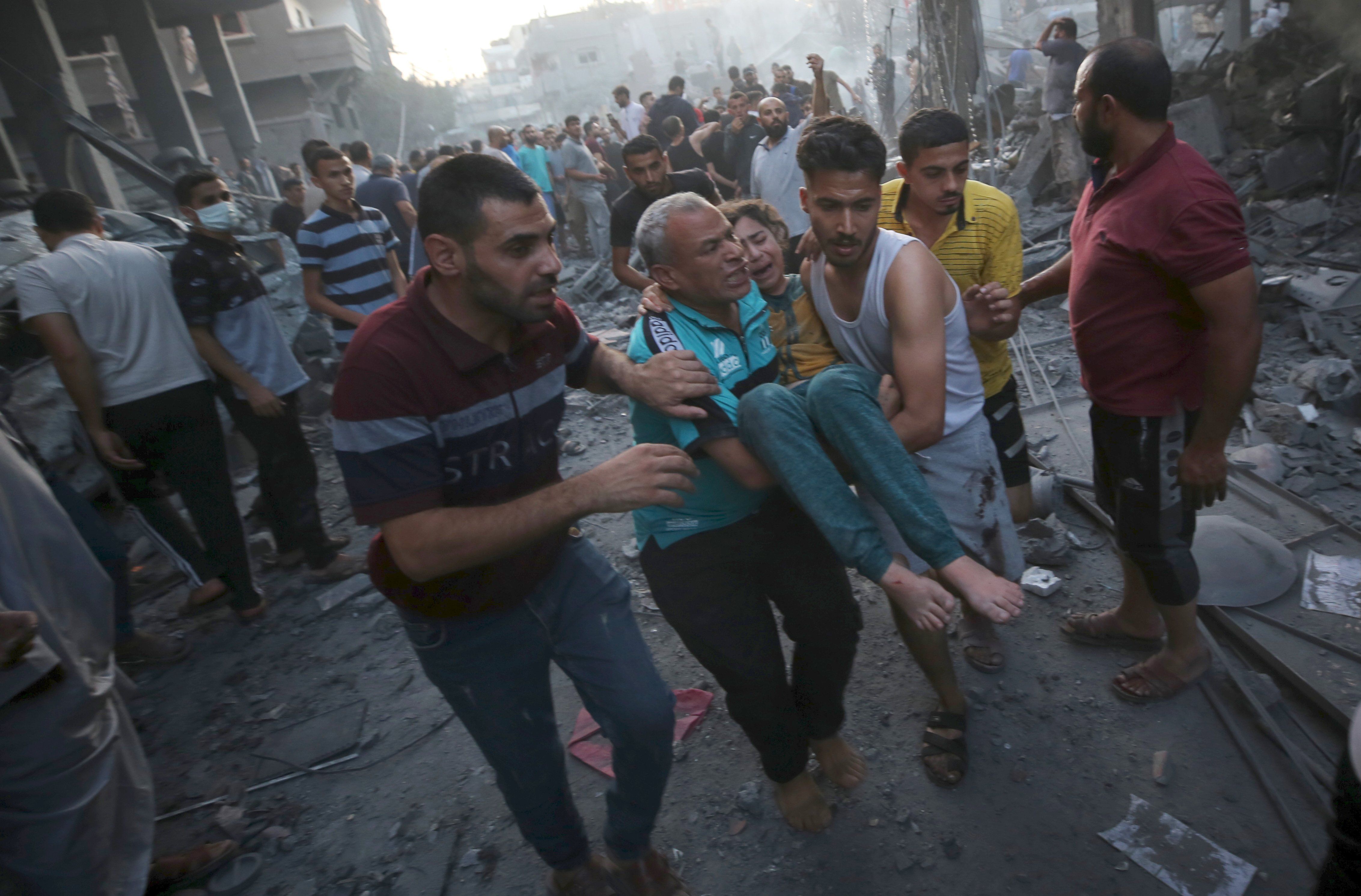 Majdi Fathi/NurPhoto
It's now been exactly two weeks since Hamas militants broke out of the Gaza Strip on Oct. 7 and went on a murderous rampage in southern Israel, killing more than 1,300 Israelis, most of them civilians, and kidnapping more than 200.

Israel's resulting siege of Gaza and ongoing airstrikes have killed at least 3,000 people, including hundreds of children, and wounded thousands more. Nearly a quarter of Gaza's two million people have fled their homes in the densely packed enclave, and the UN warns of a desperate humanitarian crisis there.
Now the conflict is set to get worse. Israel is preparing a massive ground invasion of the Gaza Strip, which could begin at any moment. The stated aim is to remove Hamas from power, but experts say this will entail gruesome urban combat, and it's not clear what Israel's political strategy for Gaza will be afterward. Israel's Defense Minister on Friday suggested it would be to renounce any "responsibility for life" in a post-war Gaza. With views on both sides of the Israel-Palestine now hardened into a new "holy war" (see our viewpoint on that here), it is hard to imagine any path to peace in the near future.
At the same time, the war has shattered the notion – increasingly taken for granted by Israeli and Arab leaders alike in recent years – that the Palestinian issue could simply be contained and forgotten. As recent mass protests have shown, Arab capitals must reckon again with popular anger about Palestinian suffering in a way that they have not had to for many years. There is no more talk, for example, of that Saudi-Israel normalization deal.
Now, as the conflict moves to a different phase, here are a few things to keep an eye on:

Will it become a regional war? Despite cheering on their Hamas protégés, Iran has shown no interest in entering the war, as Ian Bremmer pointed out this week. Israel and the US, meanwhile, have downplayed Iran's involvement in the Oct. 7 attacks as well. That's all good. But Iran's proxies are a different story.
Israeli forces in the north have already had limited clashes with Hezbollah, the powerful Iran-backed Lebanese militant group that is also part of the Lebanese government. And on Thursday, Iran-backed Houthi rebels in Yemen reportedly launched several missiles toward Israel.
For now, watch Hezbollah. It has signaled solidarity with Hamas and warned of an "earthquake" if Israel invades Gaza. But the group also has to tread carefully: Lebanon is already wracked by economic crisis, and a full-scale war with Israel could inflict even deeper pain – especially since the US now has two carrier groups bobbing off the Israeli coast, ready to intervene if the fighting spreads. For a look at how people in the Lebanese capital of Beirut are feeling, see our special report here.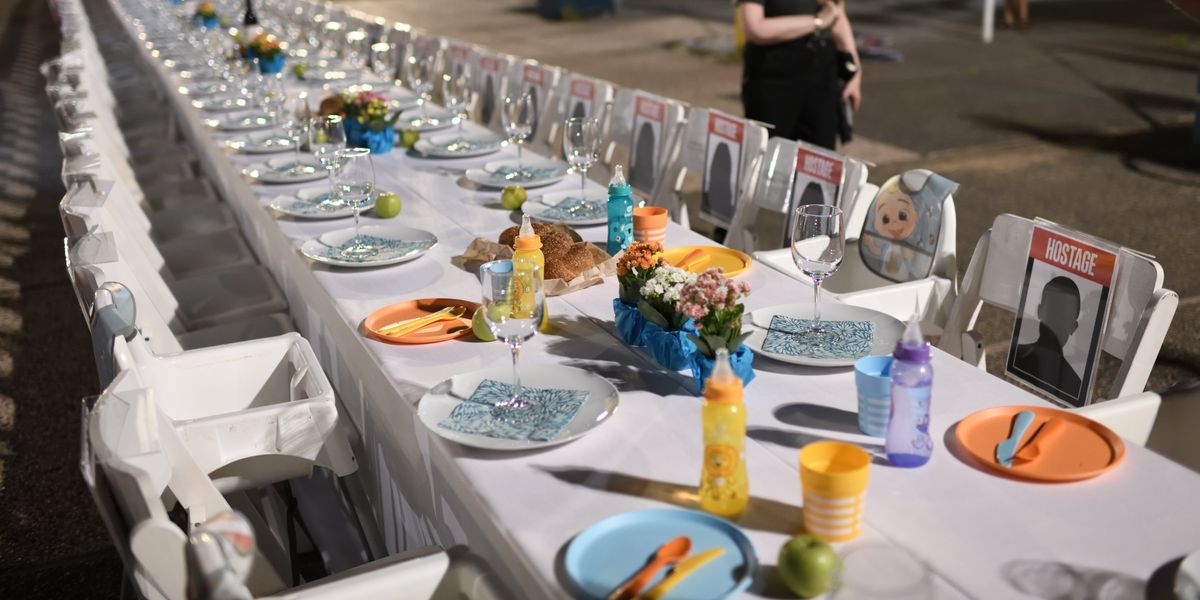 Families of Israelis held hostage by Hamas militants in Gaza set a Shabbat table with more than 200 empty seats for them at the "Hostages Square" outside the Art Museum of Tel Aviv, on Oct. 20, 2023. Gili Yaari/NurPhoto
Watch the occupied West Bank too. Violence between Israel and Palestinians was already at multi-year highs even before the Hamas rampage. Since then, protests have spread, and clashes have intensified: Settlers have opened fire on civilians, while Israel launched airstrikes on a refugee camp that it said was home to militants. More than 70 Palestinians have been killed, and hundreds have been arrested over the past two weeks. Aging Palestinian Authority President Mahmoud Abbas – who governs the West Bank – is struggling to master the situation, and the threat of a new intifada (mass uprising) is real.

The US role. President Joe Biden – who made at least half a trip to the region this week – has signaled strong moral, military, and financial solidarity with Israel, while also demanding humanitarian relief for Gaza. A deal to get aid in via Egypt was close on Friday, but Israel was seeking further assurances that any aid trucks wouldn't include fuel or smuggled weapons for Hamas.
Biden returned home to deliver a prime-time foreign policy speech, framing Ukraine and Israel as part of the same US-led fight against "terrorism" and "dictatorships." The upshot? He wants $105 billion from Congress for Ukraine, Israel, Gaza, and the US border. How much of that he'll get will become clear in the coming weeks.
For a look at the challenges facing US policy towards Israel right now, this week's episode of GZERO World with Ian Bremmer features interviews with Democratic Senator Chris Murphy of Connecticut, and Republican Representative Mike Waltz, of Florida.
Speaking of Congress, by the way, the House of Representatives is still without a speaker – we're just happy that with Jim Jordan seemingly out of the race, we won't be confused by headlines that seem to suggest King Abdullah is meddling in US politics.
The real costs of fake news. This war, like all conflicts in the social media age, is being fought not only on the ground but on the web, where the fog of war is as thick as cotton candy.
The costs of misinformation became clear this week when the Al Ahli Arab hospital in Gaza City was struck by a munition of some kind on Tuesday night. International media initially reported Hamas claims that it was an Israeli bomb and that 500 were dead. Mass riots across the Arab world caused King Abdullah to cancel a scheduled summit of Arab leaders with Biden, which was meant to focus on humanitarian relief for Gaza.

Subsequent analysis of the hospital damage, including by open source investigators, seemed to lend credence to Israeli claims that it was a misfired or damaged rocket from within the Gaza Strip.
As of this writing, we still don't know what happened, and with Israel preventing journalists or investigators from entering Gaza, we likely won't for some time. But still, the lesson was clear: Think before you tweet.
See all of our coverage of the Israel-Hamas war here, including explainers of who Hamas and Palestinian Islamic Jihad are, our wildly popular map of Palestinian refugees, and our interview with a former US Green Beret about how to rescue the US citizens currently held hostage in Gaza.