What We're Watching: Biden-Xi on Zoom, Cuban protest, Duterte family drama, Qaddafi junior for prez, Steele Dossier skewered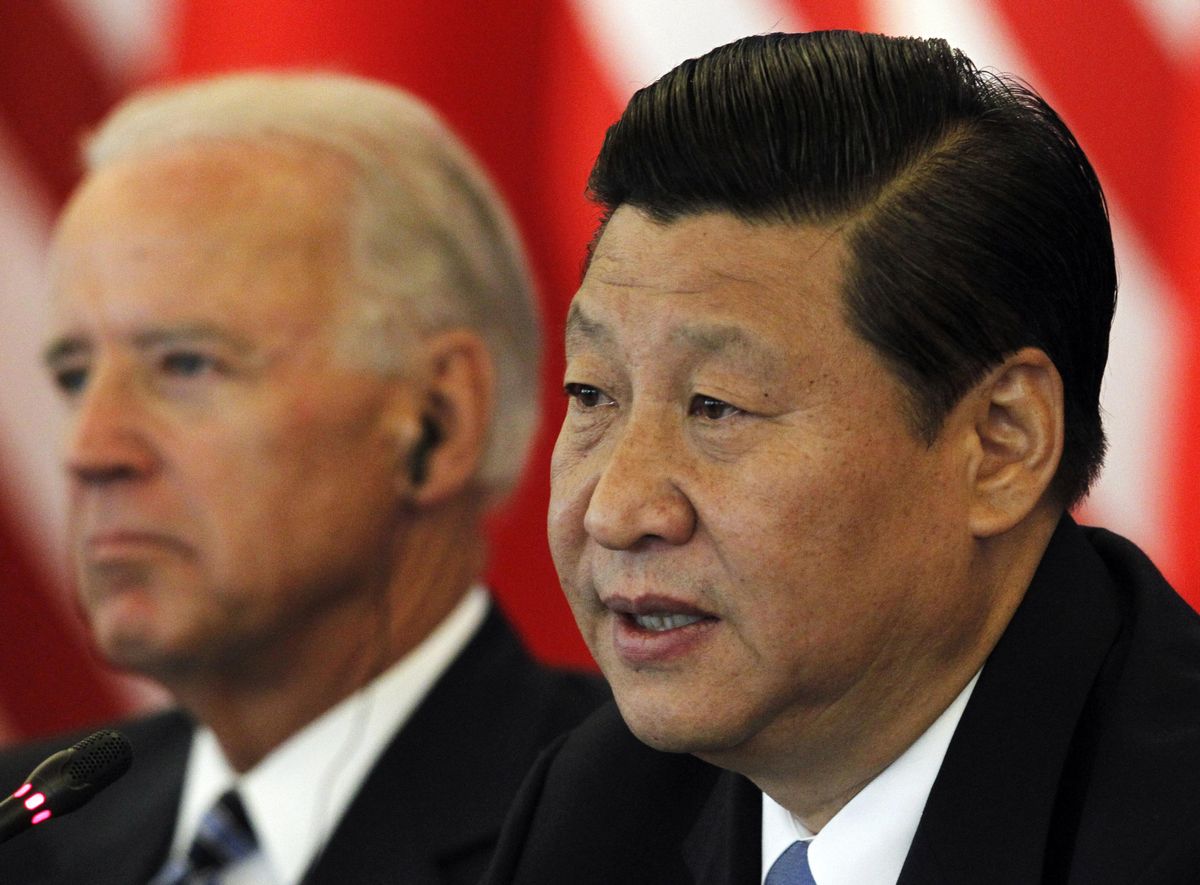 REUTERS/Ng Han Guan/Pool
US-China virtual summit. Joe Biden and Xi Jinping will meet face-to-face (virtually) on Monday for the first time since Biden became US president last January. The two have a lot to discuss: trade wars, the 2022 Beijing Olympics — which Biden won't attend, but probably won't boycott — and how to deliver on the joint US-China pledge on climate made at COP26. But the elephant in the Zoom room is Taiwan, an ultra-sensitive issue for China. Xi is seething at the Biden administration's recent public support for the self-governing island, which the Chinese regard as part of their own territory. The Americans insist they are simply doing what they've always done since 1979 — pledging to help Taiwan defend itself. Can Biden and Xi navigate these issues in a calm, cool way? It may help that the two leaders have known each other for more than a decade, when they were both VPs. With US-China relations getting chillier by the day, the stakes are high.
---
The streets of Cuba. For months, Cuban activists and dissidents have been planning a fresh, island-wide, anti-government protest. Well, today is the day, and the stakes are high. The Cuban regime, which has refused to issue permits for any marches, says it will not tolerate any unrest, and has accused the US of being behind the demonstrations. Back in July, you might remember, Cuba witnessed the biggest anti-government protests in decades, as popular anger over shortages, poverty and political repression boiled over into the streets. Since then some 1,200 people have been arrested, with roughly half of them languishing in jail while awaiting trial on charges of sedition or sabotage that carry sentences of up to 25 years. We're keeping an eye not only on what happens in Cuba, but also on how the Biden administration responds. The US president will be under immense pressure from the powerful Cuban-American constituency in Florida, as well as Republicans more broadly, to impose tougher sanctions on the island. But there's an argument that the interests of the Cuban people might be better served by doing just the opposite.
Duterte telenovela. The daughter of Philippine President Rodrigo Duterte will run next year for vice president... while her dad will seek a Senate seat. The term-limited senior Duterte had threatened to run against her, but changed his mind again at the eleventh hour. (The president — who faces legal action over his bloody drug war unless his successor declines to prosecute him — was initially going to run alongside his daughter, but then dropped out because he said most Filipinos were against it.) Meanwhile, although the country elects presidents and VPs separately, Sara Duterte will be on a de-facto ticket with Ferdinand Marcos Jr., the son of the former dictator and allied with the Dutertes. Expect more drama during the campaign from the Dutertes and other big names in the Philippines, where politics is deeply personal and parties serve as mere vehicles for individuals with high name recognition. With boxer-turned-senator Manny Pacquiao also running in a very crowded field, buckle up for an epic battle to replace Duterte in May 2022.
Qaddafi redux in Libya? From the progeny of one dictator to another. Ten years after the death of former Libyan strongman Muammar Qaddafi, his son Saif — dressed in Berber robes eerily similar to his father's classic outfit — registered on Sunday to run for president in the December 24 election. With his comeback, Saif Qaddafi hopes that those nostalgic for the stability of the previous regime, as well as Libyans tired of the decade of chaos and civil war that followed his dad's ouster, will give him their vote. But if the elections happen at all, which is quite uncertain due to ongoing bickering between factions on the rules and schedule, Qaddafi's son faces long odds. For one thing, it's unlikely he will campaign in public because he fears for his safety and has an outstanding ICC arrest warrant for crimes against humanity (a Libyan court also sentenced him to death for war crimes in 2015, although that ruling was later overturned). For another, he'll be up against tough rivals backed by different groups of foreign powers like General Khalifa Haftar, a warlord supported by the Gulf states and Russia; Aguila Saleh, the influential parliamentary speaker; and PM Abdul Hamid Dbeibah, head of the UN-backed National Unity Government.
US media trust wars.
Remember the Steele Dossier? Yes, the oppo research on Donald Trump compiled by a former British spy that alleged Russia had
kompromat
leverage
over the then-US presidential candidate. After Trump won the 2016 election, several media outlets openly hostile to Trump covered the unverified report — Buzzfeed even published it in full — to suggest that Russia helped get Trump elected. Trump and the GOP-friendly media blasted it as part of a liberal "witch hunt" to undermine his election victory. Well, in the past few days the dossier itself has been skewered after Igor Danchenko, the source of the report's most juicy claim — that Trump got Russian prostitutes to defile a bed Barack Obama slept on in a Moscow hotel — was indicted for
lying to the FBI
about it. The charges against Danchenko subsequently led the Washington Post to
correct
two old articles that cited the dossier, the basis for FBI surveillance of the Trump campaign now being probed by US attorney John Durham. Expect the scandal to dominate the US political conversation for weeks, and drive an even bigger
media trust wedge
between Democrats and Republicans.