Sign up for GZERO's free newsletters on global politics
SUBSCRIBE
GZERO Daily: the newsletter for people who love global politics
Sign up for our free newsletter to keep up with what's going on around the world - and why it matters.
Subscribe
GZERO Daily: the newsletter for people who love global politics
Subscribe Now

We have updated our Privacy Policy and Terms of Use for Eurasia Group and its affiliates, including GZERO Media, to clarify the types of data we collect, how we collect it, how we use data and with whom we share data. By using our website you consent to our Terms and Conditions and Privacy Policy, including the transfer of your personal data to the United States from your country of residence, and our use of cookies described in our Cookie Policy.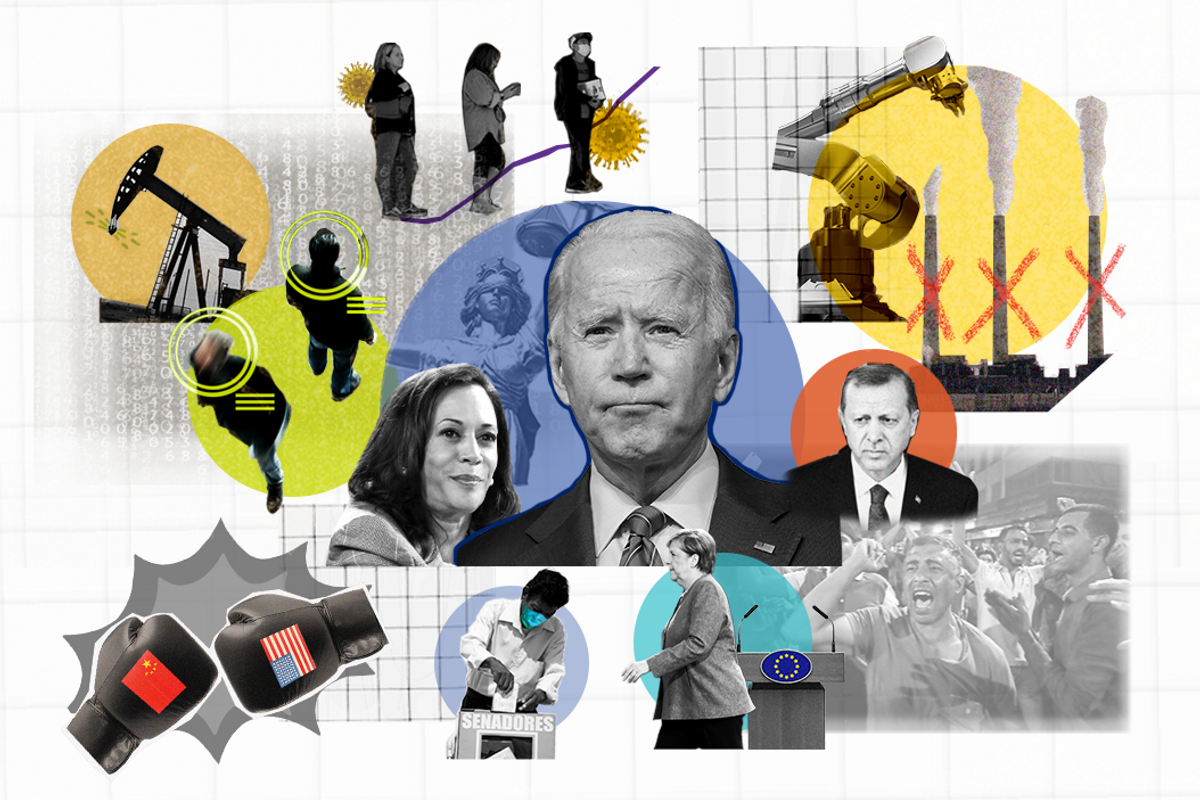 Every year, Eurasia Group, our parent company, produces its list of the top 10 geopolitical risks for the coming year. This year's report is authored by Eurasia Group's president, Ian Bremmer, and its chairman, Cliff Kupchan.
---
(Full disclosure: Ian Bremmer is my boss, and I've been working on Eurasia Group Top Risks reports for 16 years.)
For 2021, Bremmer and Kupchan double down on the accelerating polarization at the heart of the world's sole superpower. Last year's report opened with the question "Who Governs the US?" Top Risk #1 centered on the election-year threat to the integrity of American political institutions.
This year's Top Risk #1 is titled "46*," as Joe Biden's term opens the era of the asterisk presidency, a time when every Oval Office occupant is seen as illegitimate by roughly half the country — and (some of) the lawmakers that election skeptics send to Congress. This week's expected insurrection by dozens of Republican lawmakers on behalf of outgoing President Trump and his charges of election fraud on the floors of the US House and Senate underline the depth of partisan bitterness.
The significance beyond US borders is that Republicans and Democrats will disagree sharply — with each other and among themselves — over most of the objectives of US foreign policy.
In addition, the size of Trump's base, and the broadening of that base to include more minority voters, leaves allies and potential partners wondering whether the next "America First" president and foreign policy are just four years away.
Top Risk #2 is called "Long COVID" to capture the lingering impact of COVID-19 on both political stability in many countries and the global economy. The pandemic will leave a legacy of high debt, displaced workers, and lost trust. The distribution of vaccines will further divide haves from have nots, both within and among nations, stoking anti-incumbent anger and public unrest in many countries.
Here are brief summaries of Top Risks 3-10.
#3 - Climate: Net Zero meets G-Zero
Climate policy will move from the playground of global cooperation to the arena of global competition. China's long-standing industrial policy approach will now face a much more aggressive climate push from Washington. Some parts of the clean energy supply chain will face political pressures like those seen in the tech sector. The push for net-zero emissions targets will create enormous opportunities for private capital, but winners and losers will be determined as often by political factors as by market forces.
#4 - US-China competition broadens
A shared desire in Washington and Beijing for stability in US-China relations will briefly ease headline tensions, but intensifying vaccine diplomacy and climate tech competition will combine with longstanding frictions over questions like trade, Hong Kong, Taiwan, and the South China Sea to further complicate the US-China rivalry.
#5 - Global data reckoning
A slowdown or halt to the free flow of sensitive data across borders will raise costs for companies, and disrupt popular apps and digital business models. This risk begins with the US and China, but it doesn't end there. Even as the data-driven 5G and AI revolutions gain steam, other governments concerned about who is accessing their citizens' data – and how – will erode the foundation of the open global internet.
#6 - Cyber tipping point
A combination of low-probability but high-impact risks and inexorable technology trends will make 2021 the year that cyber conflict creates unprecedented technological and geopolitical risk in cyberspace.
#7 - (Out in the) cold Turkey
Economic setbacks in 2021 and Turkey's poor COVID response will leave President Recep Tayyip Erdogan struggling to win back voters disillusioned with his two-decade rule. That will encourage Erdogan to launch more foreign-policy adventures to fuel nationalism and distract his supporters, but in 2021, Turkey's president won't have international friends to shield him from the consequences.
#8 - Middle East: Low oil takes a toll
Energy-producing countries in the Middle East and North Africa faced a collapse in global energy demand in 2020 that left governments from Algeria to Iran with less cash flowing into their coffers as the pandemic sickened citizens and weakened economies. 2021 will be worse, because energy prices will remain low. Reforms will slow, and protests will grow.
#9 - Europe after Merkel
Angela Merkel's departure later this year after 15 years as Germany's chancellor will drive risk in Europe. The EU faces an economic hangover from lockdowns in several countries, and Merkel won't be there to encourage flexibility in the multilateral response. Without Merkel to serve as a strong and neutral negotiator, diplomatic efforts to resolve energy and territorial disputes in the Eastern Mediterranean will struggle. The EU position will become more hawkish as France pushes more member states to get tough with Turkey.
#10 - Latin America disappoints
Governments in Latin America face intensified versions of the formidable political, social, and economic problems they confronted before the pandemic. There will be no large-scale vaccinations until late in the year, and countries are poorly positioned to deal with another COVID wave before then.
Agree with this list? Disagree?
Tell us
what you think, Signal readers!